Federal Articles of Incorporation - Visitor
1. Go to www.oncorp.com

2. Hover over Business Services and select view all products: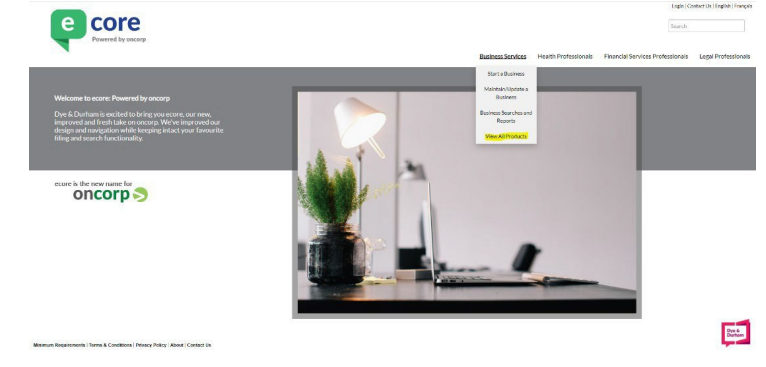 3. Please note that we have two separate Federal Articles of Incorporation – Using My Own Data and
Pre-defined Sample. When trying to choose between the two, please refer to this link found on our
website, https://www.oncorp.com/oncorphome/pages/start-a-business-other/incorporateontario.aspx.

A) Pre-Defined Sample:
The pre-defined Articles of Incorporation include standard legal precedents compliant with
Industry Canada.

When you choose this option, you only need to supply variable data such as the corporate name,
address, director and incorporator's name(s) and address(es). The relevant precedents will be
populated in the appropriate sections based on your selection from the 2 types of corporate
structures offered. You may still edit the pre-defined data if required.

Two templates are available – simply select the option that matches your corporate structure:

• Common shares only
• Common and preference shares

B) Using My Own Data:
If your corporate structure does not fall into one of the above categories, or if you wish to use your
own custom precedents, please select the option "My own data".
If unsure, please seek legal advice to determine which best suits your Corporation.
4. Go Corporation filing services tab. From there, select "Federal Articles of Incorporation" using
a pre-defined sample: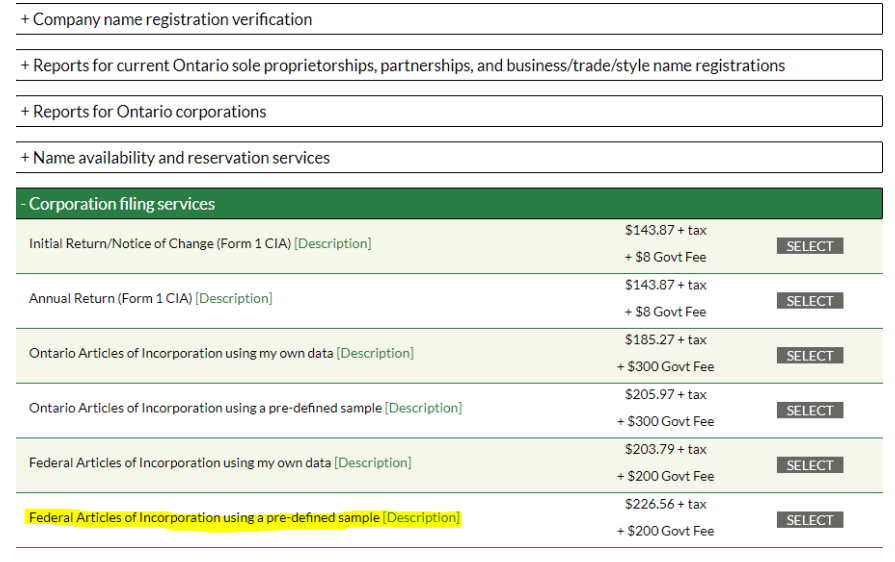 5. Federal pre-approvals are not required, but they can help secure a name (you are not required to
get one). The Federal Pre-Approval can be found online at https://www.oncorp.com/oncorphome/federal-name-preapproval.aspx: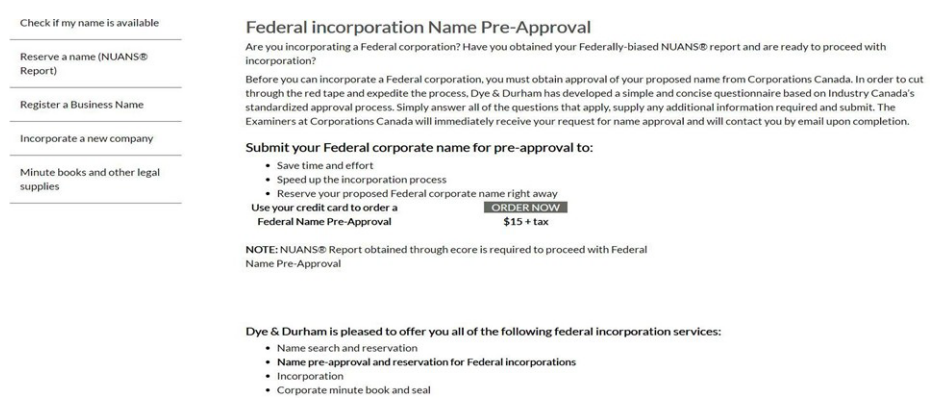 6. Once you select "Federal Articles of Incorporation using a pre-defined sample", you'll reach
our Terms and Conditions: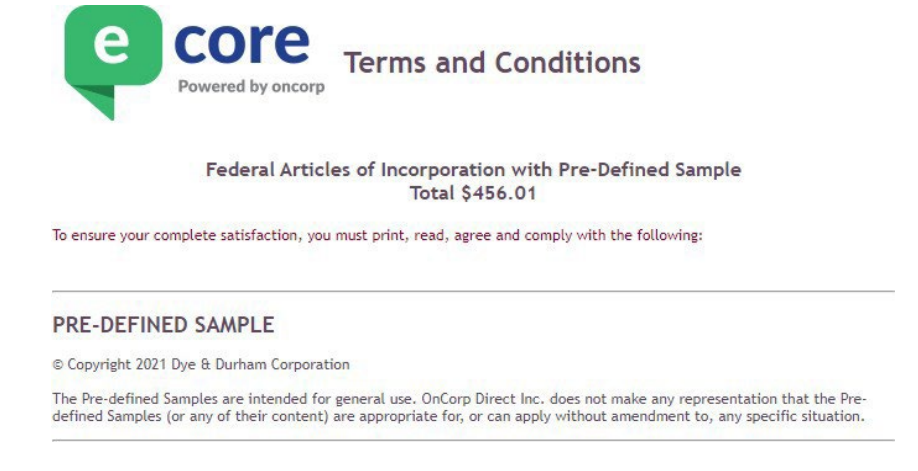 7. Please make sure to select, "I agree and comply" in order to move ahead with the Federal
Articles of Incorporation: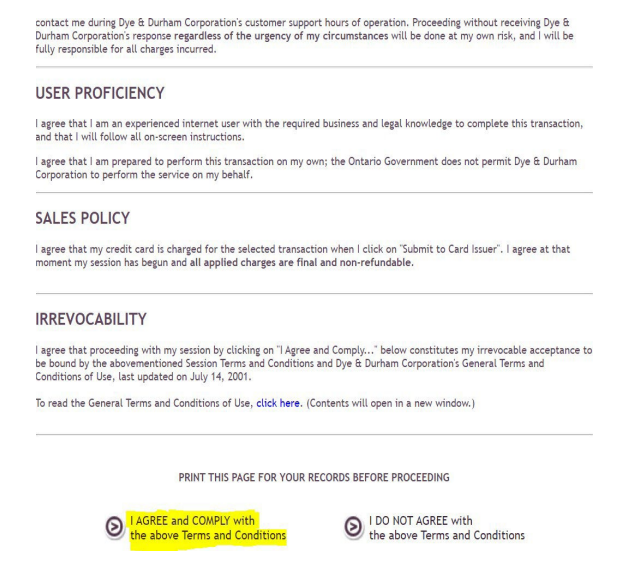 8. It will then prompt you to enter your contact information as follows (NOTE* this is just your
purchase information) Please make to enter the phone number with a dash: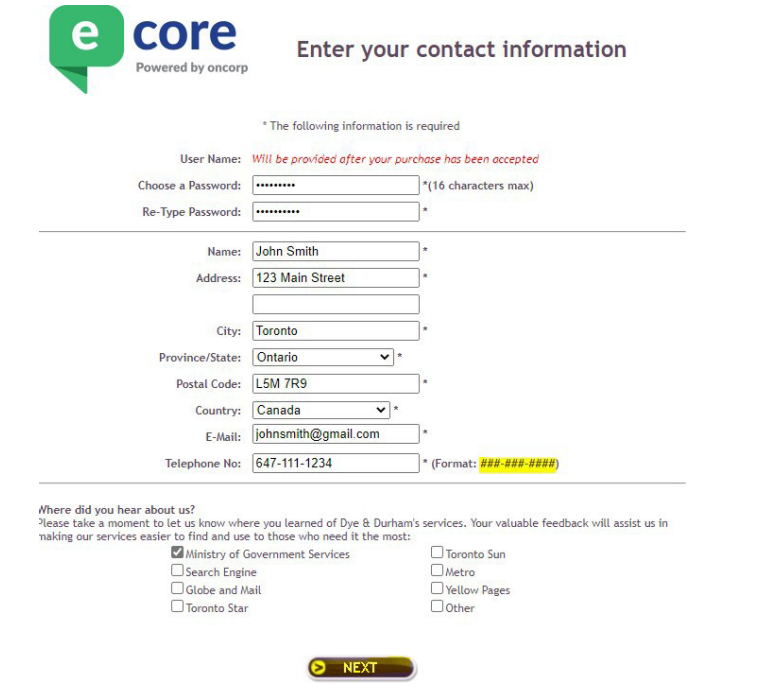 9. Please enter your credit card information: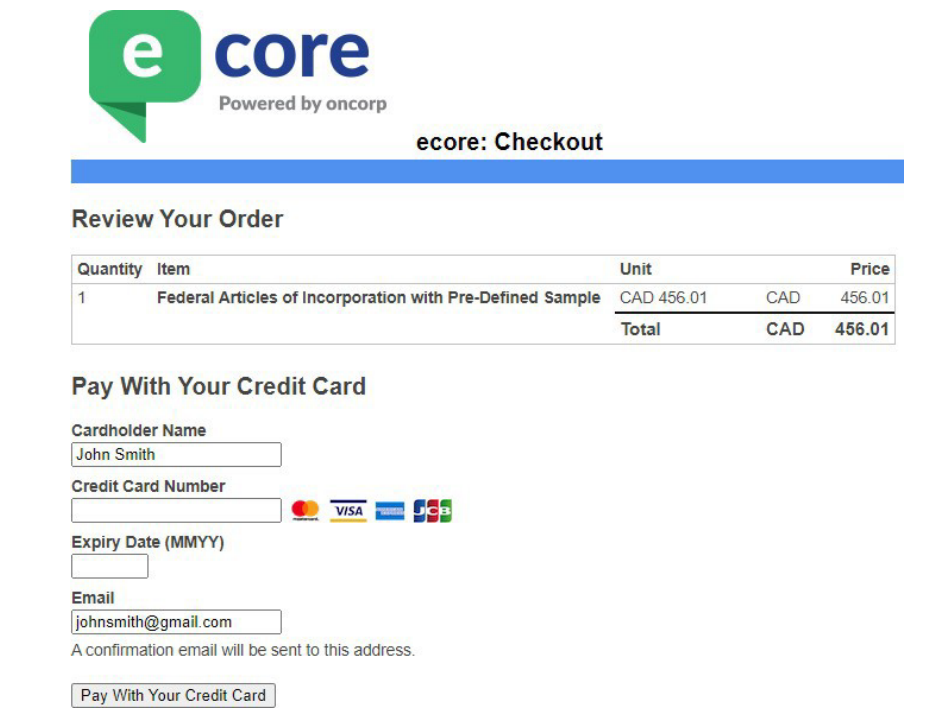 10. After your purchase, you will see your account information including your unique USER ID
which will be generated for you. Please keep a copy of this information safe as this will be the
only way for you to retrieve your documents once complete.
11. Once logged in, you will have to choose from two visitor templates. Once you have decided
which template you prefer, please choose below:

12. For numbered corporations please follow step eleven and ignore fourteen. For
named corporations Please proceed right to step fourteen.

13. Please note our cover letter feature, in the case a deficiency letter is generated
and the Ministry is need of more information, we recommend you use an email
we can reach you at ( see below):

14. If this is a numbered corporation, you will select the first option (Numbered Corp. Ending
with):

15. If this is a named corporation, you will want to enter your NUANS reservation report details
(NOTE* make sure that you include Reservation No., as well as the date that NUANS report
was produced. You will also need to add a legal ending to the end of the NUANS name ex. Dye
and Durham is the corporation's name we added INC. in this example.) Please note that
despite having a NUANS report, NUANS falls under the non preapproved category. Preapproved
names require a preapproval however it is not mandatory: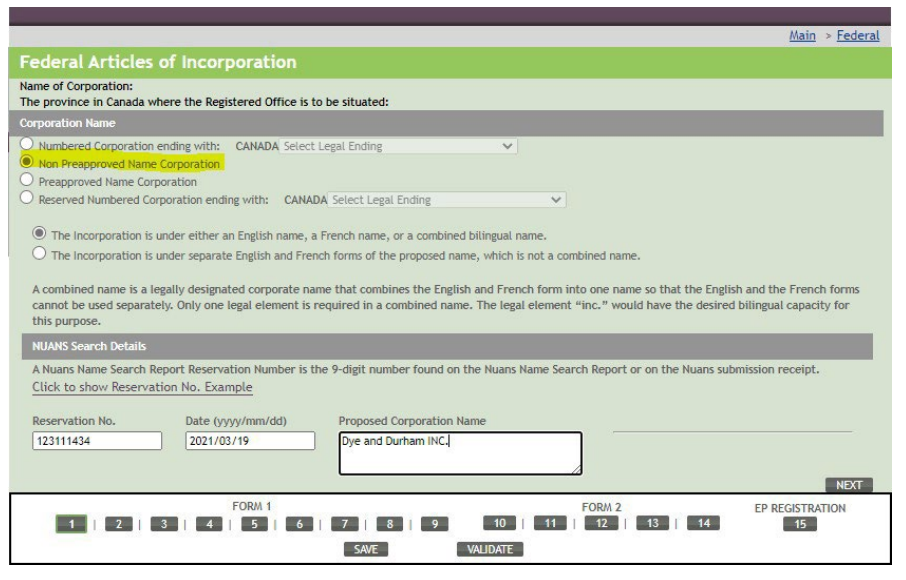 16. Once completed, you have the option to extra provincially register at no additional charge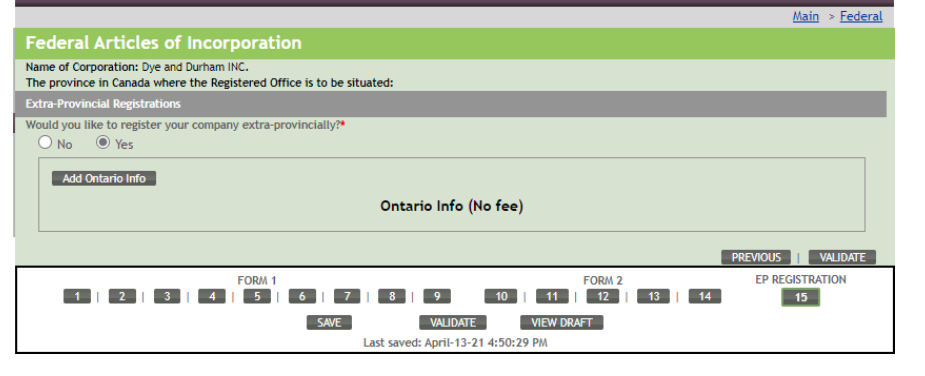 17. While you may not see a submit button, you will see a validate button. You need to validate
near the bottom, of the page in order to submit: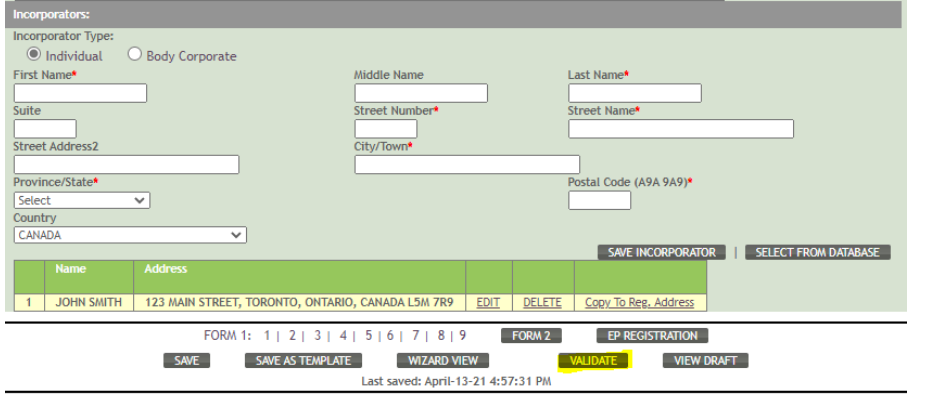 18. Once validation is successful and you've fixed any potential errors, please proceed with
submission:

19. Congratulations! After a few minutes you can head to your submitted tab and your articles
should be available and ready for you to print by clicking "Articles of Incorporation". NOTE*
Please print these and keep them somewhere safe as your data will only be available for 90
days: